The Meyer Sound Philosophy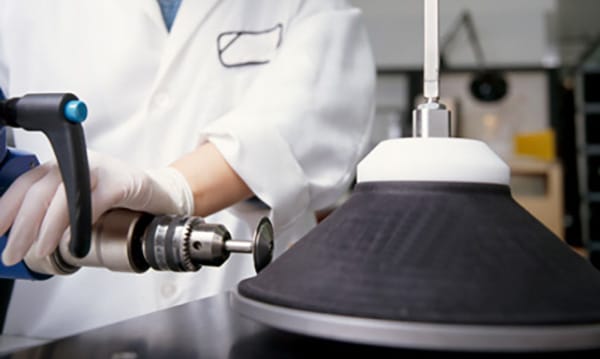 A Belief that Inspired a Company
Meyer Sound was founded in 1979 to create the best sonic experiences possible, built on scientific innovation and quality engineering. At the heart is a passion for quality, ensuring that every paper cone, circuit board, and driver is handcrafted to meet our extremely demanding standard.
We continuously analyze production methods and material selection and exercise exhaustive quality control behind the legendary unit-to-unit consistency, reliability, and longevity of Meyer Sound products. The end result? Pure, honest sound.
---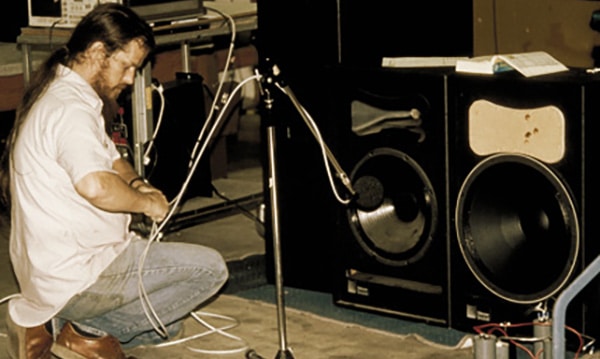 The Science Behind the Sound
Meyer Sound is at the origin of numerous major audio innovations leading to more than 100 patents and a staggering list of industry and engineering awards, including the prestigious R&D 100 Award. Our team of scientists, acoustic and audio engineers, designers, technicians—together with a production crew that takes pride in their exacting hand assembly—all work together to deliver the premium products that set Meyer Sound apart.
---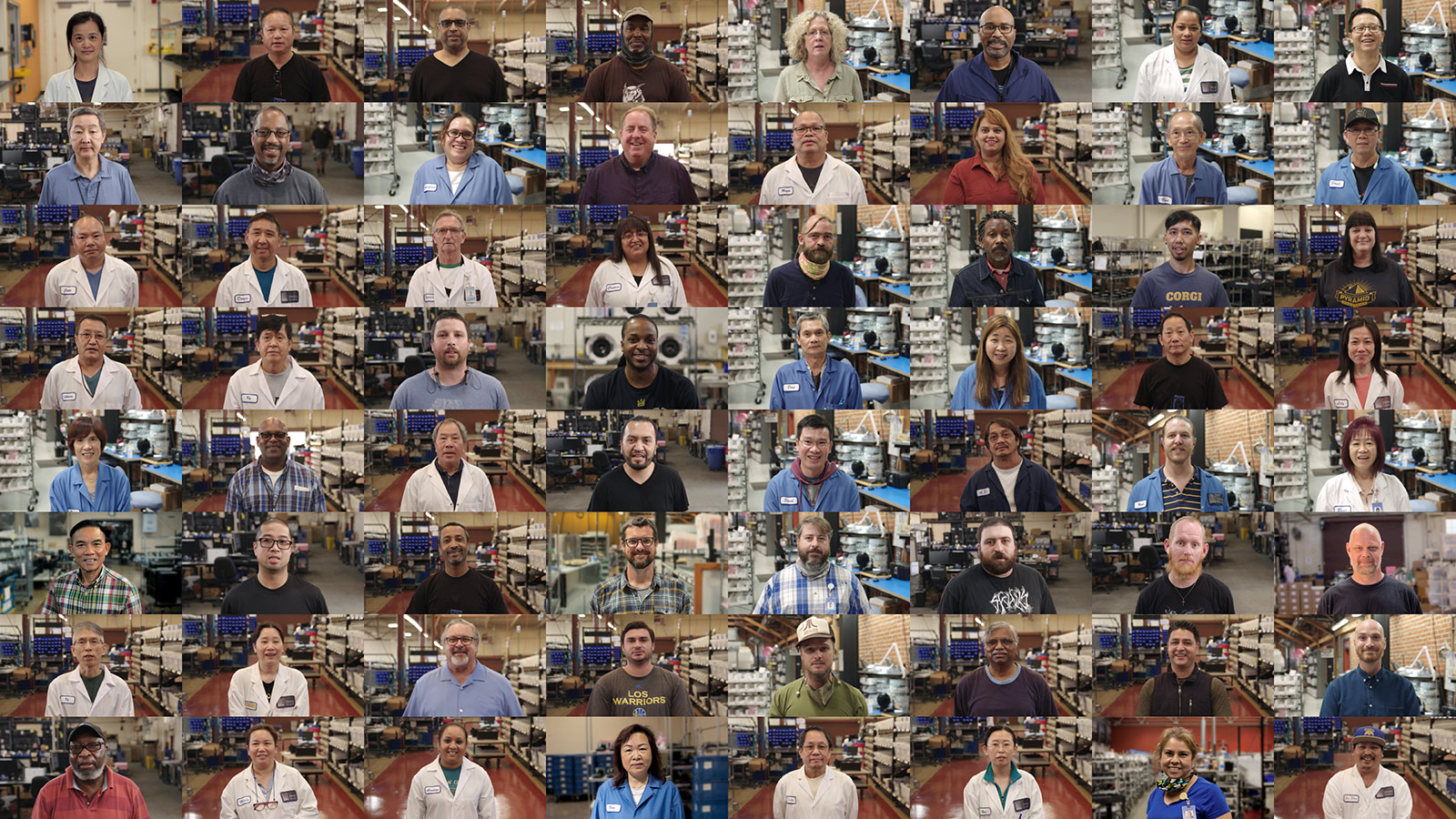 A Commitment to Core Values
When John and Helen Meyer founded Meyer Sound over forty years ago, they set out to create an environment that cares about their work, communities, and each other. Headquartered in Berkeley, California, and with operations globally, Meyer Sound believes in embracing diversity, equity, and inclusivity, in following sustainable manufacturing practices, and in supporting the arts both in our local community and around the world.
---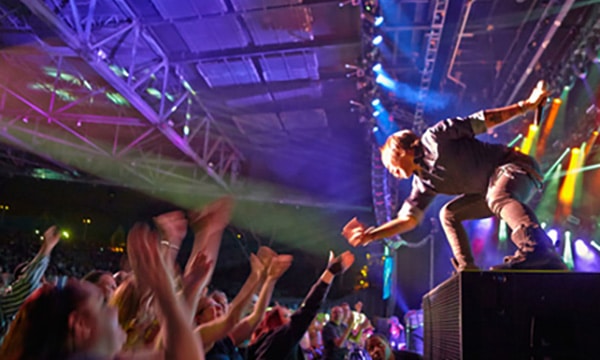 In the End, It's All About the Experience
Innovation is at the heart of all we do. Our full package of system design and validation tools, training, and support, all make exceptional listening experiences easier to achieve. Whether providing a solution for a corporate theater, global concert tour, house of worship, or wide range of other applications, Meyer Sound delivers the ultimate sonic experience.
---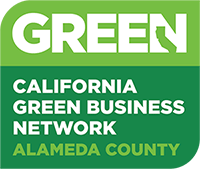 Meyer Sound Milestones
For over 40 years Meyer Sound has set the standard for sound reinforcement innovation. Here is where you will find our history of product release, awards and accolades. Scroll through the timeline to discover the company's key milestones ranging from 1967 to the present.
Meyer Sound Patents
From its beginning, Meyer Sound has been known as a leading innovator in performance audio products. Our list of industry firsts includes trapezoidal cabinets, dedicated loudspeaker processors, self-powered loudspeakers, source independent measurement, parabolic long-throw transducers, cardioid subwoofers, the REM manifold, Internet-enabled acoustical prediction, and more.
The technology underlying such innovations can be traced through the course of our patent history. Patents have played an important role at Meyer Sound since the company was established in 1979. Our first U.S. patent (4,152,552) was granted within weeks of the time we opened for business, and has served as a technological foundation for product development ever since.
To be valid, any claim for an intellectual (technically, "utility") patent must mark a departure in thinking from what is generally accepted and known in the trade. But you don't have to actually make a functional device - or make anything at all, for that matter - in order to patent your idea.
At Meyer Sound, however, all our patents have been incorporated into products in some way, with tangible benefits for the professional audio community. In one sense, we use the patenting process as a framework to transform fledgling concepts into effective products. Seeking a patent disciplines our engineering team by making us more careful and thorough in our work.
Although Meyer Sound's patent history includes several milestones in audio engineering, it doesn't tell the whole story. We haven't sought patents on all of our new ideas. Instead we have focused our patent applications on those key concepts that define our distinctive approach to sound reproduction technology.

At Meyer Sound, we believe that advancing the industry elevates us all, so we innovate with the big picture in mind—whether we're pioneering loudspeaker technologies, establishing new reference standards, or breaking new ground in system management tools.
The industry is at the leading edge of a new generation of networked A/V: From live concerts to Broadway theatre to houses of worship, networks let us build bigger, more complex media systems that deliver excitement on a grand scale.
With A/V increasingly residing on networks, there's never been a greater demand for stable, reliable performance. As we look to the future, we want to align with open-source technologies that establish dependable, high-quality standards. For the first time, technology innovators across the industry are joining forces to establish a networking solution aimed at advancing the entire entertainment ecosystem: Milan.
Meet Milan
Milan is the first open solution for deterministic, reliable, and future-proof delivery of networked media. Milan is the application layer built onto the AVB network protocol that adds a framework of interoperability for professional A/V devices: While AVB addresses issues at the network infrastructure level, such as synchronization and quality of service, Milan is application focused, addressing the unique requirements of media networking including reliability, stability, scalability, and audio quality. The Milan specification and certification process guarantees these standards yet still leaves room for healthy competition and robust product development.
United For An Open Solution

Milan is developed by professional audio members of the Avnu Alliance, a consortium of leading manufacturers with a common goal of defining a new standard of interoperability in A/V networking. We understand that our products don't exist in a vacuum: As part of an entertainment technology ecosystem, we want the ability to seamlessly communicate with other devices in that system. By working together, we're able to create a standard quickly to address the needs of a rapidly evolving media industry. And because we're not limiting specifications to a single manufacturer, we can guarantee that all Milan-certified devices will work together at a new level of convenience, reliability, and functionality—today and in the future.
Friendly, Foolproof, And Future-Proof
Milan builds on benefits already established in the AVB standard by further defining device requirements for compatible media streams, formats, media-clocking, redundancy, and controller software. This translates into big advantages at both the network layer and the application layer:
Reliability: Milan enables time-sensitive media files to coexist with other Ethernet traffic, without drop-outs or degradation. And because it's a deterministic network, you can count on on-time data delivery—guaranteed.
Sustainability: As a media professional, you need an enduring standard that will scale with you and support your workflow needs today and as your systems evolve. We design products to last decades; with Milan, you'll be confident in your investment knowing there's a network protocol that will support your products throughout their lifetime.
It Just Works: You're an audio professional, not an IT engineer. Milan was developed with scalability and ease of use in mind. It's transparent, seamless, and plug-and-play simple—you can stay focused on your creativity.
Making Milan Together
At Meyer Sound, we know that when you succeed, we succeed. We're committed to giving our customers the best tools available to support their creative vision; Milan strengthens our ability to deliver on that promise, now and in the future. We're proud to be part of an industry movement to create solutions that benefit everyone. Because it all translates to a better entertainment experience—and that's a goal we can all get behind.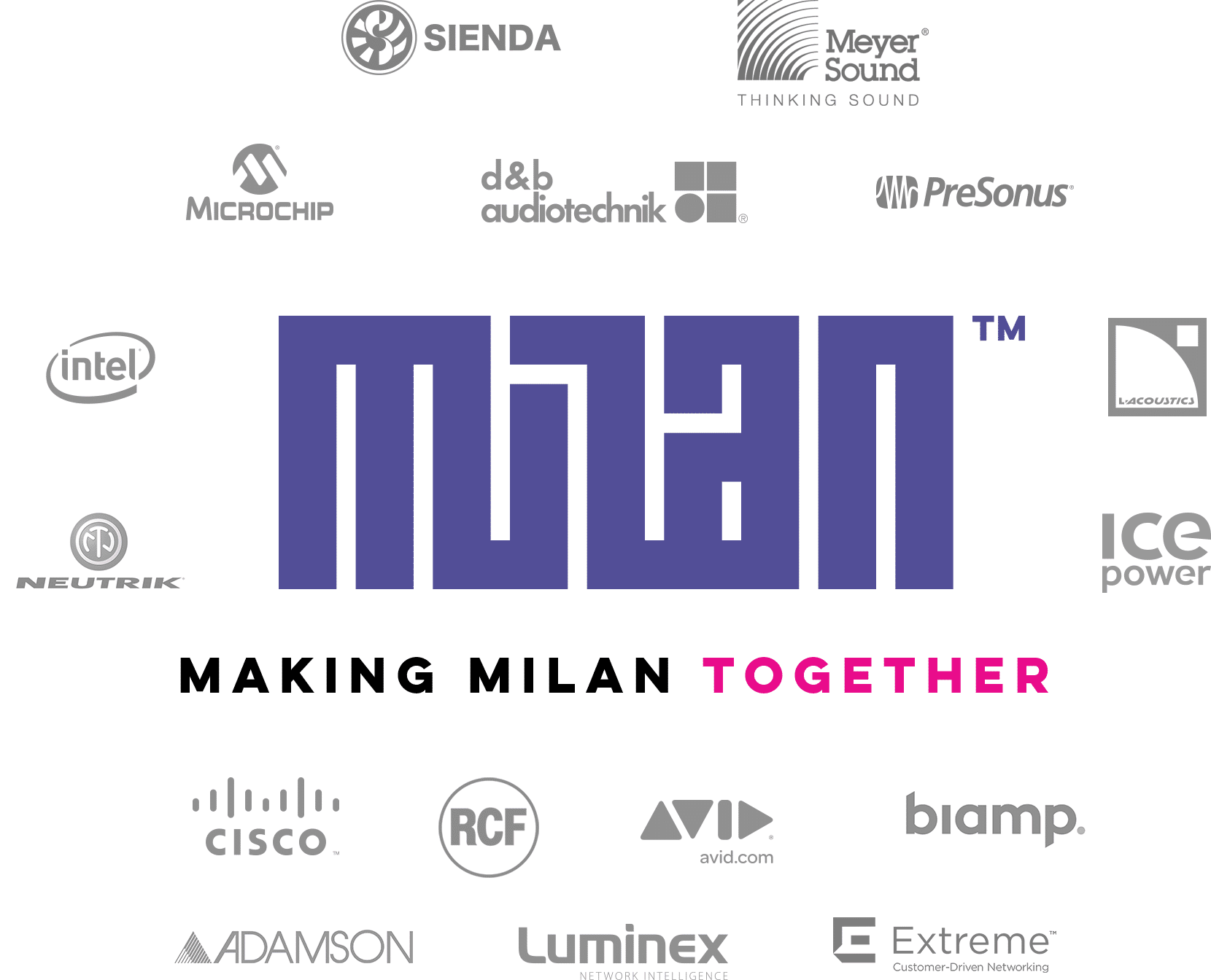 The Self-Powered Advantage
Meyer Sound has been pioneering self-powered loudspeakers for professional installations and touring since 1995. We've committed to self-powered systems because we know they deliver unrivaled clarity, reliable performance, value, and ease of use.
If you've been thinking about investing in a self-powered system, you've come to the right place.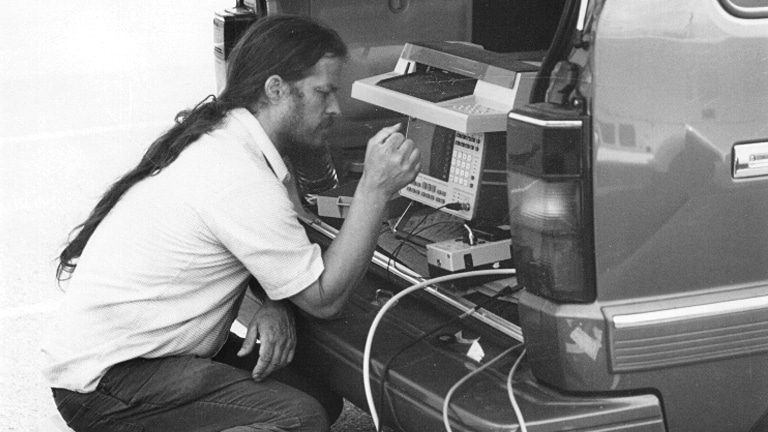 First, a Little History...
The story of self-powered loudspeakers is in many ways the story of Meyer Sound itself.
In the 1970s, sound reinforcement technology was inconsistent science at best, and at worst, led to show-ending failures. A young John Meyer, designing loudspeakers for San Francisco's McCune Sound Service, wanted to bring quality and reliability to sound systems, and he knew the answer lay in self-powered loudspeakers. In 1979 Meyer founded his own speaker company; early Meyer Sound innovations include the iconic HD-1 self-powered studio monitor launched in 1989.
Today Meyer Sound offers a full range of self-powered sound reinforcement products. Meyer Sound systems can be found on tour with artists ranging from Ed Sheeran to Metallica, on Broadway and London's West End, and in performance venues from the San Francisco Opera to the Vienna Philharmonic not to mention sports stadiums, cruise ships, and houses of worship around the world.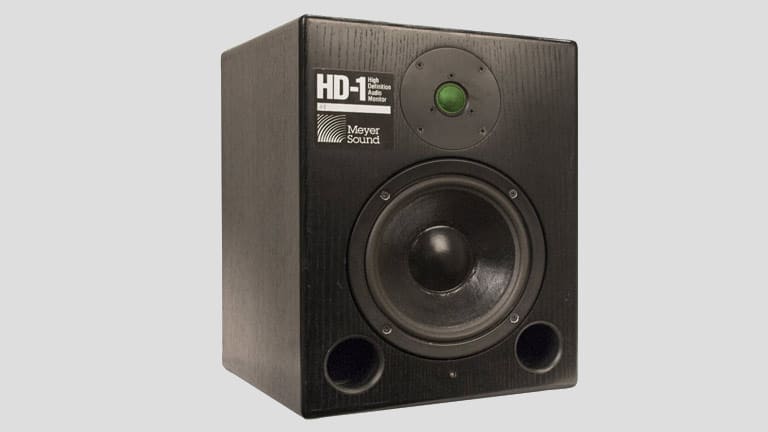 Why Self-Powered?
Self-powered loudspeakers offer several advantages over their passive counterparts when it comes to fidelity, reliability, and simplicity. The great part is, you'll start to reap the benefits of a self-powered system before you even power up.
Ease of deployment: System set-up is so much easier when you have fewer components and fewer cables to worry about being miswired. Since self-powered loudspeakers incorporate amplification, you'll never have to deal with matching speakers to amplifiers or connecting components. You don't have to worry about calibration of gain and crossover setting which means more time focusing on the show. Eliminating amp racks doesn't just streamline system deployment, it streamlines your inventory whether you're a rental house or a road warrior. And when you consider that the average amp rack weighs nearly 300 pounds and takes up four feet of truck space, the efficiencies get even clearer. Let alone when you want to fly the amplifier racks to get closer to the speakers, often requiring more rigging points and more motors.
Predictable, reliable operation: Internal amplification is closely matched to drivers. Because individual components have been optimized during manufacturing, you can expect consistent sound from show to show. Built-in, factory-optimized protection circuitry provides extra assurance without degrading signal quality. And, when you have less equipment, you have less risk of failure.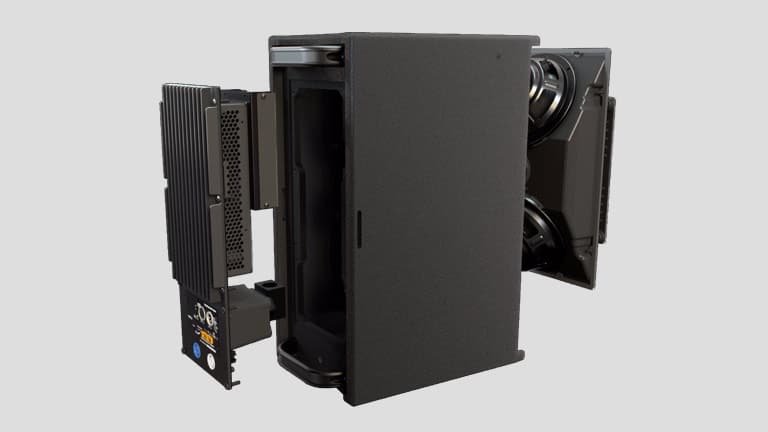 Better frequency and phase response: Because self-powered loudspeakers incorporate sophisticated processing, they are calibrated to exhibit optimal response curves in key performance parameters. Active crossovers are more precise, sophisticated designs, and bi-amped systems are time aligned, eliminating phase issues. The result? Accurate sound throughout the speaker's range, at any volume level.
Unparalleled clarity: In powered monitors, internal amplifiers are precision-matched to drivers, delivering optimal power at all times for cleaner sound. And because amps are built into loudspeaker cabinets, there's no need for long lengths of connecting cable, which can become prone to distortion and signal loss.
Tighter transients: Since self-powered loudspeakers have very short internal cables, amps inside can more effectively dampen driver mechanical motion, which leads to better sonic accuracy and tighter, crisper transients. (And, there's none of the loss in levels and signal quality inherent over long cable distances.)
Certified Safe: Nothing matters more than the safety of your staff and customers. Because self-powered loudspeakers incorporate amplification, they must undergo rigorous testing by Underwriters Laboratories and other international organizations to ensure they operate safely and guard against the risk of fire, electric shock, and inadequate structural design. Enjoy peace of mind knowing Meyer Sound powered products are certified by FCC, UL, CSA, CE, and CEE the most stringent agencies in the business.
The Problems with Passive
What about passive loudspeakers? At first glance, passive systems may seem like a bargain. But we already know that passive systems require more components and accessories than powered systems. Sonically, they exhibit potential for signal loss over distances, and it is very hard to ensure consistent, optimal sound and volume as amplifiers have many variables to consider when being matched to loudspeakers, such as cable lengths and gauge as well as the number of speakers connected to the amplifier.
Passive systems are often touted as easy to service. But because powered loudspeakers are so complex to design and build, self-powered loudspeakers usually represent the top innovations from leading manufacturers. Better quality translates to better reliability, which means fewer maintenance issues in the long run.
At face value, passive systems might seem less expensive and easier to maintain. But once you start adding in amps, cables, and other components not to mention increased transport and labor costs you'll find that those savings just don't add up to a better value.
Step Up to a Self-Powered System
Once you recognize all of the advantages inherent in self-powered loudspeaker systems, it's easy to understand why the world's top venues and productions rely on them to deliver consistently stunning sound.
Find a Reseller

About Us
Creating extraordinary sound experiences is the essence of what we do — from the arena-quaking thunder of Metallica to the immersive thrills of Cirque du Soleil. At Meyer Sound, we continually strive to elevate the dialogue about sound and cultivate a greater awareness of the importance of how we hear and listen.
Founded in 1979 by John and Helen Meyer, our company is globally recognized as a leader in integrated sound reinforcement solutions. Meyer Sound systems can be heard on tour with artists like Ed Sheeran, Sigur Rós, Post Malone, and Celine Dion; at iconic venues including Jazz at Lincoln Center, the Cologne Philharmonic Hall, the Montreux Jazz Festival, and Cirque du Soleil's Las Vegas productions; along with theatres, cinemas, arenas, houses of worship, restaurants, theme parks, and museums around the world.
Our products are designed and hand-crafted at our Berkeley headquarters, with offices and distributors around the globe. Our work has generated more than 100 patents and numerous industry awards, including TEC, MIPA, and Eddy Awards, and the prestigious R&D 100 Award.
Philanthropy
We are company that firmly believes in giving back and we instill that value into everything we do. Founders John and Helen Meyer have been deeply involved in the Bay Area arts community for decades. We support arts institutions and philanthropic organizations throughout the San Francisco Bay Area, including the San Francisco Opera, Cal Performances, and The UC Theatre. Helen Meyer has worked tirelessly to empower individuals and enrich the local community in the areas of job creation, education, and philanthropy, serving on the boards of Cal Performances, the San Francisco Opera, and the Mark Morris Dance Group.
Our Culture and Benefits
A collaborative, results-focused approach to sound solutions drives a company philosophy where creative thinking, old-fashioned craftsmanship, and entrepreneurial technology are strongly intertwined.
At Meyer Sound you will help create world-class products and technologies; you'll do your best work, cultivate your passion, and make your mark. This isn't just a job, it's a career. The average tenure here is ten years and many of our employees have been with us for much longer.
We've built a vibrant culture that fosters professional excellence in an environment that truly delivers work/life balance. Full-time employees enjoy a generous compensation package which includes:
Paid time off

Comprehensive health, dental, vision benefits

401K plan

Life/Long-term disability insurance

Generous parental leave
IDShield identity protection

Wellness and commuter benefits

Employee parties and movie nights

Pet insurance

Dog-friendly environment
Internships
We offer a summer internship program that aims to provide hands-on experience and help you build skills which can lead to outstanding career opportunities:
Summer internships run June through August

The internship application process begins in February

Candidates must currently be enrolled in an accredited undergraduate or graduate program or have graduated within one year

Internships are available in Design Services, Technical Support, R&D, Marketing, Manufacturing, and Quality Control
Careers
We love working with people who have a passion for audio and understand the value of sound. If this describes you, please explore our employment opportunities.