Libra
Acoustic Image System
---

The Art of Acoustic Ambiance
Shape the Sound of Your Space
Lose the basic burlap and foam. Libra panels blend effective sound absorption with striking visual aesthetics to balance reverberations—and keep the focus on the conversation. Select from four sizes up to 14 feet wide, or customize dimensions; hang wall panels or suspend panels from ceilings and trusses.
Make a Statement
Libra panels double as museum-quality showpieces offering dazzling color and detail. The Libra collection is created and curated by renowned Bay Area landscape photographer Deborah O'Grady, whose expert consultation ensures optimal expression of your unique architectural vision.
Trusted Sound Management
Libra is Meyer Sound's first passive acoustical system. This patented sound absorption technology is the culmination of more than five decades of research and innovation that has made Meyer Sound a global leader in pro audio.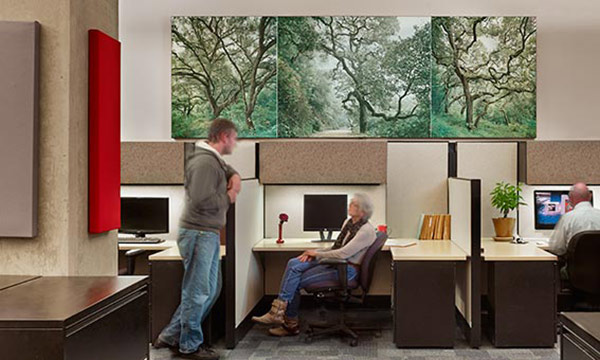 Build an Acoustical Ecosystem
Only Meyer Sound offers a full suite of active and passive solutions for precisely tailoring the sonic signature of any space. Combine Libra panels with our digital signal processing and state-of-the-art sound reinforcement systems to dial in the ideal acoustic ambiance anywhere—from high-energy venues such as cafes and performance spaces, to intimate settings like residences, meeting rooms, and museums.